The Sacrament of Marriage
On behalf of Parish of East Wall, North Strand St. Joseph's Church, we wish you every blessing and happiness as you approach your wedding and married life. The following are some notes to guide you in the preparation for marriage.
Through the Sacrament of Marriage, Christ will be with you on your wedding day and through all the days of your life together.
MARRIAGE PREPARATION
Contact the Priest – Diocesan regulations require couples to contact a priest of their own Parish at least 3 months in advance of the wedding date.
NOTIFY THE CIVIL REGISTRAR
Contact the Registrar's Office at 01 6711968.
Make an appointment with a civil registrar to give at least 3 months notice of your intention to marry, in advance of your date of marriage.
REQUIRED DOCUMENTS
Pre-nuptial Enquiry form to completed at meeting with your priest.
Recent full form Baptismal and Confirmation Certificates (within 6 months of the marriage date)
Letters of Freedom
Letters of Consent if under 18 years of age
Papers for the Bride to be (Pre-nuptial Enquiry Form) will be completed by her local priest
Papers for the Groom to be should be completed by his local priest – very often in another parish so early contact is advised.
PRE-MARRIAGE COURSES
Pre-Marriage preparation courses will help you to explore your relationship as a couple and the challenges of married life.  Be sure to book your Pre-Marriage Course early.  Courses are available form :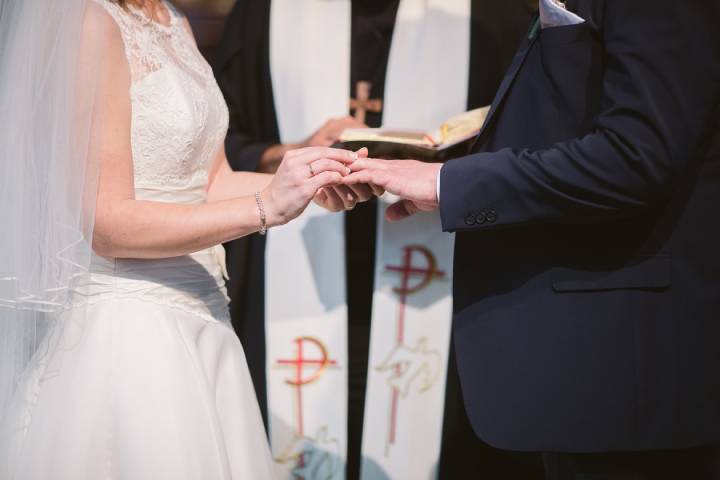 The Ceremony - Wedding Mass
Please look over the booklet for "Your Wedding " which you will receive at registration.  It includes the most appropriate readings, texts and prayers and you may choose the ones you like.
Family and friends may be invited to read from Scripture, Prayers of the Faithful and bring up Offertory gifts.
If you would like a rehearsal of the ceremony, please ask the priest of the parish.
In the days before the marriage, you should prepare yourselves spiritually by receiving the Sacrament of Penance. If at all possible, not only the Bride and Groom, but those attending should receive Holy Communion.  By sharing in the Bread of Life, we are made one with each other in faith and love.
PAPAL BLESSING
If you would like a Papal Blessing, forms must be ordered through Veritas at least 3 months in advance of your wedding day.  A letter of recommendation from the priest is required with your application for a Papal Blessing.
CHURCH PROTOCOLS
The church is kept in good condition for your wedding day, covering heating, lighting, décor, insurance for all visitors and guests, not to mention cleaning and tidying of the church after your ceremony.  The sacristan will also be in attendance.   It is the accepted custom to make an offering to defray the cost of the facilities provided.
We ask that photographs, floral decoration, booklets, and music are in keeping with the wedding ceremony and removed from the Church afterwards.
SUGGESTED CHURCH AND SACRISTAN OFFERINGS
St. Joseph's Church  –   €300 This will need to be given to the Sacristy at your wedding practice.
The Sacristan – €50   This will be given to him/her on the day of your wedding.
Wedding Day
Arriving on time – all are asked to arrive on time (especially the Bride) out of courtesy to the congregation, the priest and the Sacristan.
Best Man:  The Best Man takes care that the following are brought to the church:  rings, silver piece, Papal Blessing (if obtained), and the Church offerings.
Flowers : The use of flowers and plants, tastefully arranged can add to the spirit of the wedding ceremony. Please discuss your requirement with our staff or let us know as soon as possible if you have a designated florist of your own.
Music: Please discuss this with our staff or let us know as soon as possible if you have chosen a musician. Organist and Singers can be arranged by request and in consultation with the priest.
Photographs: When engaging a photographer or videographer, please choose one who works quietly and with minimum distraction during the ceremony.  Again, consultation with the priest beforehand is important.
Confetti: Please do not throw confetti or rice in the church or grounds.
Suggested Readings:
The First reading is from the Old Testament
The second reading is form the New Testament
Gospel readings
---
Old Testament
1. A Reading from the book of Ecclesiastes (3:2-8)
There is a season for everything, a time for every occupation under heaven: A time for giving birth; a time for dying. A time for planting; a time for uprooting. A time for building; a time for tearing down. A time for sorrow; a time for joy. A time for mourning; a time for dancing; A time for making love; a time to refrain from making love. A time for finding; a time for losing. A time for saving; a time for throwing away. A time for mending; a time for tearing. A time for keeping silent; a time for speaking. A time for conflict; a time for peace.
The Word of the Lord
2. A Reading from the book Ecclesiasticus (6:14-17)
A loyal friend is a powerful defense: whoever finds one has indeed found a treasure.  A loyal friend is something beyond price, there is no measuring his worth.  A loyal friend is the elixir of life, and those who fear the Lord will find one.  Whoever fears the Lord makes true friends, for as a person is, so is his friend too.
The Word of the Lord
4. A reading from the book of Ruth
Wherever you go, I will go.  Wherever you live, I will live.  Your people will be my people.  Your God will be my God too.  Wherever you die I will die.  And there I shall be buried beside you.  We shall be together forever.  And our love will be the gift of our life.
The Word of the Lord
5. A reading from the book of Genesis (2:18-24)
The Lord God said, 'It is not good that the man should be alone. I will make him a helpmate.' So from the soil the Lord God fashioned all the wild beasts and all the birds of heaven. These he brought to the man to see what he would call them; each one was to bear the name the man would give it. The man gave names to all the cattle, all the birds of heaven and all the wild beasts. But no helpmate suitable for man was found for him. So the Lord God made the man fall into a deep sleep. And while he slept, he took one of his ribs and enclosed it in flesh.
The Lord God built the rib he had taken from the man into a woman, and brought her to the man. The man exclaimed:  'This at last is bone from my bones, and flesh from my flesh!  This is to be called woman, for this was taken from man.'  This is why a man leaves his father and mother and joins himself to his wife, and they become one body.
The Word of the Lord
---
New Testament
1. A Reading from the first letter of St. John (1 Jn 3: 1-3)
Think of the love that the Father has shown us by letting us be called God's children; and that is what we are. Because the world refused to acknowledge him, therefore it does not acknowledge us. My dear people, we are already the children of God but what we are to be in the future has not yet been revealed; all we know is that when it is revealed, we shall be like him because we shall see him as he really is.
The Word of the Lord
2. A Reading from the first letter of St. Paul to the Corinthians (13: 4-14)
Love is patient and kind; it is not jealous or conceited or proud; love is not ill-mannered or selfish or irritable; love does not keep a record of wrongs; love is not happy with evil, but is happy with the truth. Love never gives up; and its faith, hope and patience never fail. Love is eternal. There are inspired messages, but they are temporary; there are gifts of speaking in strange tongues, but they will cease; there is knowledge, but it will pass. For our gifts of knowledge and of inspired messages are only partial; but when what is perfect comes, then what is partial will disappear. When I was a child, my speech, feelings and thinking were all those of a child; now that I am an adult, I have no more use for childish ways. What we see now is like a dim image in a mirror; then we shall see face to face. What I know now is only partial; then it will be complete as God's knowledge of me. Meanwhile these three remain: faith, hope and love; and the greatest of these is love.
The Word of the Lord
3. A Reading from the letter of St. Paul to the Phillipians (4:4-9)
May you always be joyful in your union with the Lord. Rejoice! Show a gentle attitude towards everyone. The Lord is coming soon. Don't worry about anything, but in all your prayers, ask God for what you need, always asking Him with a thankful heart. And God's peace, which is far beyond human understanding, will keep your hearts and minds safe in
union with Christ Jesus. In conclusion, my sisters and brothers, fill your minds with those things that are good and that deserve praise: things that are true, noble, right, pure, lovely and honourable. Put into practice what you have learnt and received from me, both from my words and from my actions. And the God who gives us peace will be with you. 
The Word of the Lord
4. A Reading from the First Letter of John (1 Jn 4:7-12)
Dear friends, let us love one another, for love comes from God.  Everyone who loves has been born of God and knows God.   Whoever does not love does not know God, because God is love.   This is how God showed his love among us: He sent his one and only Son into the world that we might live through him.   This is love: not that we loved God, but that he loved us and sent his Son as an atoning sacrifice for our sins. Dear friends, since God so loved us, we also ought to love one another.   No one has ever seen God; but if we love one another, God lives in us and his love is made complete in us.
The Word of the Lord
5. A Reading from the Letter of St.Paul to the Corinthians
Be ambitious for the higher gifts. And I am going to show you a way that is better than any of them.  If I have all the eloquence of men or of angels, but speak without love, I am simply a gong booming or a cymbal clashing. If I have the gift of prophecy, understanding all the mysteries there are, and knowing everything, and if I have faith in all its fullness, to move mountains, but without love, then I am nothing at all. If I give away all that I possess, piece by piece, and if I even let them take my body to burn it, but am without love, it will do me no good whatever.  Love is always patient and kind; it is never jealous;   love is never boastful or conceited; it is never rude or selfish; it does not take offence, and is not resentful.  Love takes no pleasure in other people's sins but delights in the truth; it is always ready to excuse, to trust, to hope, and to endure whatever comes.  Love does not come to an end.
The Word of the Lord
---
Gospel Readings
1. A Reading from the Holy Gospel according to John (15:9-12)
Jesus said to His disciples, "As the Father has loved me, so I have loved you.  Remain in my love.  If you keep my commandments, you will remain in my love, just as I have kept my Father's commandments and remain in his love.  I have told you this so that my own joy may be in you and your joy be complete.  This is my commandment: love one another, as I loved you".
2. A Reading from the Holy Gospel according to Matthew (5: 1-12)
Seeing the crowds, Jesus went up the hill. There he sat down and was joined by his disciples. Then he began to speak. This is what he taught them: Blessed are the poor in spirit; theirs is the kingdom of heaven. Blessed the gentle; they shall have the earth as their heritage. Blessed those who mourn; they shall be comforted. Blessed those who hunger and thirst for what is right; they shall be satisfied. Blessed the merciful; they shall have mercy shown them. Blessed the pure in heart; they shall see God. Blessed the peacemakers; they shall be called the children of God. Blessed those who are persecuted in the cause of right; theirs is the kingdom of heaven. Blessed are you when people abuse you and persecute you and speak all kinds of calumny against you on my account. Rejoice and be glad, for your reward will be great in heaven.
3. A Reading from the Holy Gospel according to John (17:20-26)
"My prayer is not for them alone. I pray also for those who will believe in me through their message, that all of them may be one, Father, just as you are in me and I am in you. May they also be in us so that the world may believe that you have sent me.  I have given them the glory that you gave me, that they may be one as we are one: I in them and you in me.  May they be brought to complete unity to let the world know that you sent me and have loved them even as you have loved me.  "Father, I want those
you have given me to be with me where I am, and to see my glory, the glory you have given me because you loved me before the creation of the world.  "Righteous Father, though the world does not know you, I know you, and they know that you have sent me.  I have made you known to them, and will continue to make you known in order that the love you have for me may be in them and that I myself may be in them."
4. A Reading from the Holy Gospel according to Matthew (5:13-16)
"You are the salt of the earth. But if the salt loses its saltiness, how can it be made salty again? It is no longer good for anything, except to be thrown out and trampled by men.  "You are the light of the world. A city on a hill cannot be hidden.  Neither do people light a lamp and put it under a bowl. Instead they put it on its stand, and it gives light to everyone in the house.  In the same way, let your light shine before men, that they may see your good deeds and praise your Father in heaven.
5. A Reading from the Holy Gospel according to Mark (10:6-9)
Jesus replied. "But at the beginning of creation God `made them male and female.'  `For this reason a man will leave his father and mother and be united to his wife, and the two will become one flesh.'  So they are no longer two, but one.  Therefore what God has joined together, let man not separate."
6. A Reading from the Holy Gospel according to John (15:12-16)
Jesus said to his disciples:  'This is my commandment:  love one another, as I have loved you.  A man can have no greater love than to lay down his life for his friends.  You are my friends, if you do what I command you.  I shall not call you servants any more, because a servant does not know his master's business; I call you friends, because I have made known to you everything I have learnt from my Father. You did not choose me, no, I chose you; and I commissioned you to go out and to bear fruit, fruit that will last; and then the Father will give you anything you ask him in my name.'
7. A Reading from the Holy Gospel according to John (2:1-11)
There was a wedding at Cana in Galilee.  The mother of Jesus was there, and Jesus and his disciples had also been invited.  When they ran out of wine, since the wine provided for the wedding was all finished, the mother of Jesus said to him, 'They have no wine.' Jesus said, 'Woman why turn to me? My hour has not come yet.' His mother said to the servants, 'Do whatever he tells you.'  There were six stone water jars standing there, meant for the ablutions that are customary among the Jews: each could hold twenty or thirty gallons.  Jesus said to the servants, 'Fill the jars with water,' and they filled them to the brim.  'Draw some out now,' he told them, 'and take it to the steward.' They did this; the steward tasted the water, and it had turned into wine. Having no idea where it came from – only the servants who had drawn the water knew – the steward called the bridegroom and said, 'People g nerally serve the best wine first, and keep the cheaper sort till the guests have had plenty to drink, but you have kept the best wine till now.'  This was the first of the signs given by Jesus: it was given at Cana in Galilee.  He let his glory be seen, and his disciples believed in him.